6 Key Mobile Trends That Are Sure to Turn Heads in 2021
For the majority of businesses and industry leaders, attempting to predict what the new year will bring is always a tricky task, and 2021 especially holds even more uncertainty than usual… Whilst companies are trying to navigate the new challenges that the world is currently facing, being on top of mobile/tech industry trends would prove extremely beneficial when planning new processes and business ventures. And that's where we come in to help shed some light!
When we narrow in on mobile technology, 2021 is most certainly expected to be full of exciting new developments. With more powerful hardware and sophisticated algorithms, expect mobile trends this year to harness the amazing and advanced capabilities of our phones.
1. Different Form-factors for Smartphones
Towards the tail-end of 2019 (and through to the majority of 2020), we saw Android conglomerates attempt to spark interest in the concept of foldable smartphones. Samsung tried their hand at this new mobile tech innovation – too much disappointment and failure. Whilst many have written this trend off as a total failure, there are rumours that the new flagship Apple phones will attempt to try and reinvent the wheel, which could be in the same vein of 'foldable' or 'rollable' phones. Time will tell whether 2021 will finally be the year this trend takes off successfully.

2. A Shift to a Mobile-First World
2020 saw COVID-19 run rampant all around the world, and industries that took a major hit initially were the events, hospitality, travel and restaurant businesses. As a result, we could see more people turning to their mobile phones FIRST to complete necessary and essential tasks – most definitely in the forms of booking restaurants, keeping on top of travel restriction guidelines etc.
This change will initially cause a notable increase in the saturation of apps in the app marketplace that will look to follow this business model, so it's essential for businesses to look to implementing apps as their core end-goal.

3. Data-Transparency Future
Ensuring our data is kept secure has been a growing concern over the last several years, but COVID has certainly sped up the process of this concern becoming even more mainstream. With more people becoming data-safe aware, there has been a huge shift in businesses ensuring that their guidelines show how they're data-aware.
Especially from last year, we saw the introduction of the 'Track and Trace' app by the NHS, which kept track of people's locations and notifying them of possible COVID exposure. This year, we could see even more implementations similar to this, however in order to ensure the trust from consumers, it will be even more crucial for businesses to outline their transparency of the data they're collecting, via defined guidelines and processes.

4. Artificial Intelligence Personalisation
Artificial intelligence and machine learning are constantly being utilised in mobile applications to modify the user experience on the fly. While being one of the latest mobile app trends to emerge, it's also among the most impactful thanks to its ability to make improvements to the core program automatically.
Another one of AI's major advantages is that it can learn to customise experiences based on a customer's unique behaviour. AI is a powerful smartphone trend that can make every user experience unique and powerful, and this will only appear to get better this year.

5. The IoT (Internet of Things) Keeping Your Home Smart and Safe
With more and more people starting off their year at home, now is more important than ever before to ensure that home security is at the forefront of the general population's minds. Products and services like 'Ring' doorbell have sky-rocketed in popularity as more people are looking to smart devices for the extra added level of comfort and security.
On top of this, Smart Home devices – like Alexa and Google Assistant – also assist in keeping smart houses interconnected, which is a trend we can assure will continue to expand in the new year, with more devices and the tech used inside of them becoming even more sophisticated.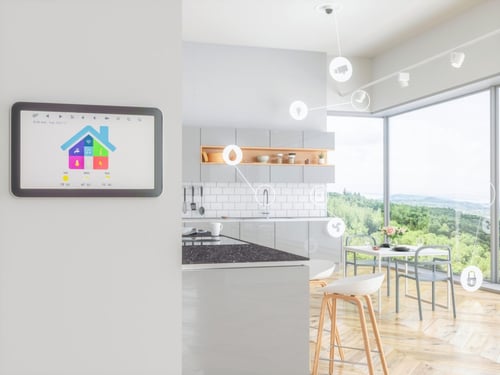 When we narrow in on mobile technology, 2021 is certainly expected to be full of new developments. With more powerful hardware and sophisticated algorithms, expect mobile trends this year to harness the amazing and advanced capabilities of our phones.
Click To Tweet
6. 5G Super Speed Making It Possible for a Quicker Service
With 5G making its debut as one of the latest mobile app trends in the tail-end of 2020, streaming services are most certainly fighting for even more dominance in the mobile market for 2021. Any application that required massive data speeds or huge bandwidth is now more manageable and marketable due to the rapid rollout of 5G being mandatory in this year's flagship models.
Taking advantage of the new speeds to develop features that were impossible on slower networks will prove to be a powerful strategy for both iPhone and Android app development.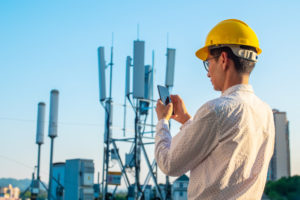 The Future is Here
Clearly, the future is bright when it comes to trends in mobile app development and design. From brand new ways to interact with mobile apps to reaching speeds never seen before, this year's trends indicate there's plenty to look forward to. In order to drive long-term user engagement with your apps and products, businesses will need to adopt a holistic app marketing plan. Proactive testing and planning – and staying on top of mobile trends – are the necessities to implementing an effective app marketing plan that drives larger business goals.
Let us know what 2021 smartphone trends you're excited to see develop into potential game-changers!
If you have an app idea for the new decade, Talk To Us today!