The battle to win your ears is upon us. Mobile music streaming apps have turned into a highly competitive business. Spotify jumped to an early lead and has retained its place at the mantle since 2008. Spotify started as an independent Swedish music streaming platform. It was one of the first music streaming apps to offer users access to a large catalogue of music. All of this in just a few clicks. Granted that at this time, premium users had to be invited to the service in order to use it.
Year after year, Spotify has been able to improve its mobile app design, usability, streaming quality, and music-sharing capabilities. This has ultimately helped make it the music platform we all know and love today. In fact, it's earned the top spot as the best music streaming app. Inevitably, due to the platform revolutionising the way we consume music nowadays and gaining global success, competition has risen from other industry-leading mobile technology companies. Spotify's competitors for the best music streaming service include:
Tidal
Tidal offers a tiered subscription-based mobile app development platform that houses a large music library. Its claim among the best music apps is that it pays artists better than all other music streaming services. Tidal also pioneered the exclusive release, where an album is released solely on the platform for a limited period of time before being widely released.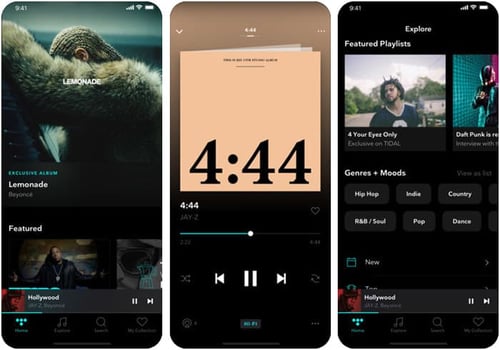 Apple Music
Apple Music has a similar platform to Tidal, but has a slew of radio mixes by high-profile musicians and DJ's. As a top music app for iPhone, Apple is already the leading podcast platform and houses essentially every podcast out there. Another reason it's a competitor for the best music streaming app for iPhone: The platform offers one of the largest catalogues of music (over 50 million!) and is perfectly integrated into Apple's iOS ecosystem.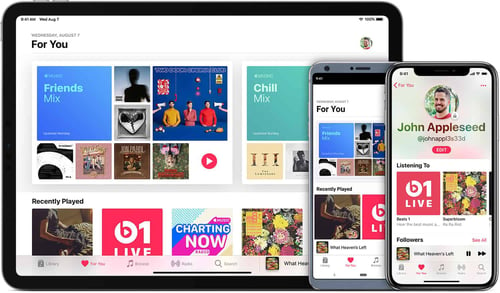 Google Play Music & YouTube Music
Google Play Music/YouTube Music have recently merged into one, as Google owns YouTube and the platform already has millions of dedicated users. In terms of what makes it the best music streaming app for Android, YouTube Music has essentially any song ever created, thanks to 30million official songs, and then the endless uploads from unique users around the world. The music streaming service integrates perfectly into both the mobile app design and flow of YouTube, so you know exactly what product you're using.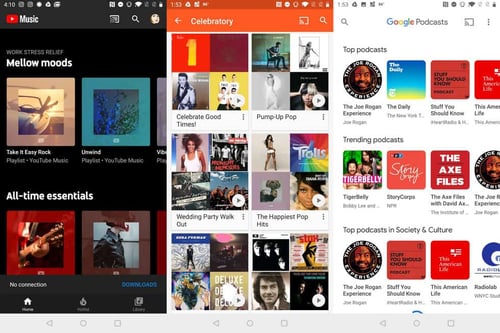 But, with all of this competition pressuring them, what makes Spotify King when it comes to the best music streaming app?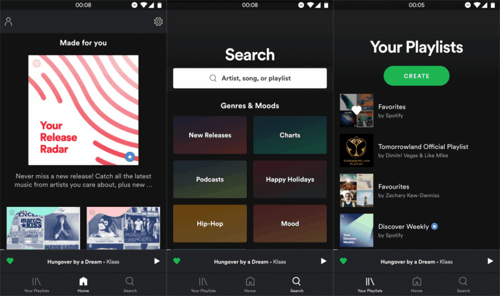 The Best Music Streaming App Offers Variation
Spotify offers everything that all of its music streaming app competitors have and more. Their bread and butter is a library of millions of songs (over 40 million) and a massive number of playlists. These playlists are created by mobile app users as well as Spotify's algorithm system. Here, you'll find a series of musical content, video content, artist specially-created content, and their most notable investment into the Podcast industry. After spending nearly £200 million in investments in the Podcast industry, the platform is looking to become the one-stop-shop for all things music, solidifying its spot as the best music streaming app for both iPhone and Android. Basically, Spotify has turned itself into a one-stop shop for all of your music streaming wants and needs.
Discovery Through Data
Spotify has truly separated itself as a top music app for iPhone and Android. It's done this by leveraging personal mobile app data for personalising the overall user experience of listening to and discovering new music. From its mobile machine-learning, artificial intelligence and data-sifting technology, Spotify analyses your listening habits and builds out customised recommendations. This includes playlists and music suggestions based on the genres and artists you're listening to regularly.
The Discover Weekly Feature
However, this is exemplified through the immensely popular 'Discover Weekly playlist. This playlist is refreshed every Monday with 30 new songs you've most likely never heard of but will probably love because they are chosen based on your most recent listening habits. For example, let's say Old Town Road by Lil' Nas X, a song with more than 100 million views on YouTube, appears on your Discover Weekly playlist. Spotify's technology has deemed this song a worthy candidate for your potential discovery because you were frequently listening to popular and successful music. The same can be said for lesser-known songs/artists that you weren't previously aware of.
The battle to win your ears is upon us.
Click To Tweet
Recognising that a personalised recommender feature was an in-demand feature for music streaming apps, Spotify doubled down on the Discover Weekly technology. Spotify launched 'Release Radar', which refreshed every Friday. Release Radar also recommends songs based on your most recent listening habits but emphasises new songs released within the past week. If you're looking for a more expansive offering, there is a whole Discover tab that aggregates a slew of artists that you'd possibly like based on your popular listening choices. This data is even used to give you monthly and yearly reports based on what you were listening to in that time frame, with an end-of-year 'Wrapped' playlist made just for you. It's not a huge selling point, but a small added value never hurts for the best music streaming app!
Collaboration On Music Streaming Apps
Playlists are a significant part of the Spotify mobile app design and user experience. Users pick that up as soon as they start using the service. While it's a great way to sift through all of these playlists and even build your own, Spotify has sharing capabilities that make playlists social as well. It's just another way it stands out as the best music streaming app for Android and iPhone. If you create a playlist, you can invite friends to be creators, which lets everyone included add songs to the playlist. This makes for a more shared experience with the mobile application, which is how music is generally best enjoyed.
All in all, Spotify has a ton of mobile application features and capabilities to offer its users. This keeps the mobile app design and experience constantly fresh and interesting. Its expansiveness, advanced technology and shareability are big factors as to why it has over 100 million monthly active users. It's no wonder it is consistently recognised as the best music streaming app.
Talk To Us if you have a revolutionary app idea!